Get Clarity On Your Compliance Requirements for DoD-Related Business
Are you a defense contractor, part of a supply chain, or do you generate Defense-related revenue? If so, you likely fall under the DFARS clause requiring you to comply with NIST SP 800-171. In this informative and interactive webinar, CyberSaint CEO and Founder George Wrenn will teach you invaluable tips to streamline cybersecurity compliance and protect your Controlled Unclassified Information for the Department of Defense mandate.
You will learn:

The origin of NIST SP 800-171 and its purpose

Your specific responsibilities as laid out by DFARS

How to identify and catalogue your Controlled Unclassified Information (CUI)/(CDI)

- What documents you need to report compliance & how to create them

- Much more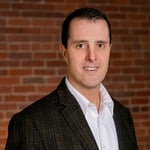 George Wrenn, CEO and Founder of CyberSaint Security shares methods to simplify the Defense Acquisition Regulation Supplement and how to address NIST Special Publication 800-171.